Small Business Solutions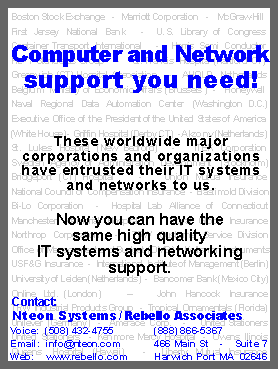 Your computer systems are critical to your business. When you need expertise or support for computer hardware, systems or networking, all too often that support has been lacking or has little experience. You pay the price of this inexperience.
Nteon Systems and Rebello Associates have been providing experienced consulting services to organizations, throughout the world for over 20 years.
Whether you are looking to replace your computer systems, install or expand your network, implement wireless or simply need support.
Contact us. We will provide you with the same high quality expertise that we have been providing leading organizations throughout the world.