Medical Practice Solutions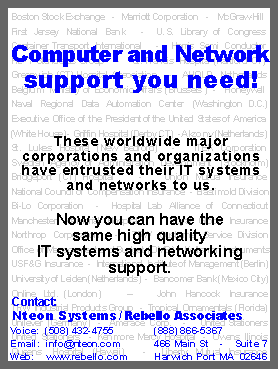 In addition to the pressures of running a practice, you also have to deal with reimbursement, HIPAA and patient issues.
Nteon Systems and Rebello Associates have been providing experienced consulting services in the Medical field for over 20 years.
Computer and Systems - Whether you are looking to replace your computer systems, install or expand your network, implement wireless or simply need support.
Reimbursement - We can help your practice increase your reimbursement. In addition to our systems consulting, we will evaluate your coding, charting and billing process. As the developers of Code Finder, we continuously keep up with the latest changes in CMS coding requirements.
HIPAA and Security - The HIPAA requirements have placed patient confidentiality squarely on the practitioner. In addition to our systems consulting, we provide detailed HIPAA compliance evaluations. This will ensure that your practice is conforming to the HIPAA requirements.
Contact us. We will provide you with the same high quality expertise that we have been providing leading organizations throughout the world.